Saturday, May 31, 2008
Hey friends. Since we're not allowed to publicly post pictures of the kids, here are the ones from Thursday with just us in them.
Marilyn the dog and her master Xuerong
Our wonderful games ICs. Three cheers for them!
Okay byebye off to mug now :) Hope you all enjoyed our CIP day.
posted by Jens Frühling at 7:40 AM

Thursday, May 29, 2008
posted by Jens Frühling at 11:13 PM

Sunday, May 18, 2008
shake shake shake ! :)
the class HAHAHAHAHA i was telling kelly i think simchun and jesslyn looks like a couple in this picture, she agrees too!! hahaha oops our junior. deardearjunior.
and this! omg simchun ahhhhhhhh !! hahahaha
posted by *米西mumu* at 2:18 AM

Saturday, May 17, 2008
Hey all, please join the Yahoo group that is set up specially for our class cip asap so I will know who has been invited and who hasn't.
I understand, however, that some of you have not received the invitation. I don't know
why
the stupid thing doesn't send them out; I've send you all quite a couple of times already.
So I will paste the invite here, tell me if it works.
-Jolene
P.S. To join, click on the image, ignore the dumb html
alt="Click here to join oh-seven-a13">
Click to join oh-seven-a13
posted by jp at 10:43 PM

Friday, May 09, 2008
Hey peeps,
I know most of you are already going for Dance Night, but I would really like to make a last call for Drama!
How The Other Half Loves
is a romantic comedy full of spills and thrills, wit and action. It'll definitely be worth your time and money!
I know there's no impetus to watch because most of you don't know the cast members, but we're trying valiantly to save our long-standing tradition of putting up a main production every year. If the response is poor, it'll end this year and I don't want to deny future batches of drama-enthusiasts from something I love as much as them.
Tickets are available at our canteen booth, on
Facebook
and you can tell me too! Thanks~
Once again:
How The Other Half Loves16/17 May 7.30pmHigh School Drama Centre$8
Starring (from left to right):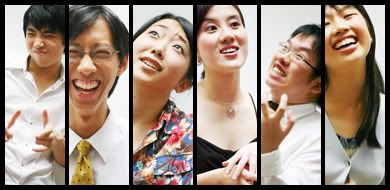 Hoh Jian Yang
(last seen in Hungry as cool, dashing Death, man behind French for Love Letters)
Darrell Lian
(last seen in Hungry as an exotic fallen God, Dramafest 07, awesome actor)
Teng Jingwei
(Ares Dramafeste 08 Best Actress)
Melissa Lim
(lady behind Hungry, Tiptoe Through The Tombstones, lovely choir soprano who is also singing tonight at the concert)
Lui Shang Da
(last seen in Tiptoe Through The Tombstones as fantabulous crusty Augustus Tomb)
Olivia Ho
(Dramafeste 08/Guitar concert emcee)
posted by ~ hongling ~ at 8:17 PM

Thursday, May 01, 2008
sorry, it feels weird to post this when we're talking abt cip but eh heh...it's STJ photos again! hehe...since i took so cant possibly dun upload or v bad! BUT! most of e picts r uploaded by rach or mar le...n e blogger is uploading EXTREMELY SLOWLY...so i dunno how many i'll upload...o well=D
EARLY BIRDS! minjian,jillian,nicholas! arrived like 3.50pm or smtg...stun!
They are the next group of early pple!=)junior class surprised us w their enthu-ness in wearing pyjamas!heh...
ha,marilyn n xuerong in PJs w their beloved softtoys!!!
Tong Hang aka Song Kang...ehx, ur real name q cool ah!
CARD GAMES!!!=D...spot ruiyi...abit weird w the blindfold ah! marilyn errr...intrude into e pict again. hahaha
they playin' e soccer table...difference is this pict gt mar n xr appearing funnily=D plus e v prominent hippo slippers...
They look q cool ah...haha yu xuan looks like stuck in a jail or smtg!heh.
Haha...now yu xuan becomes errr...some pai-kia, errr...notice calvin's weird expression>< weirdo barney...sim chun act cute ah! lol
Kelly n marilyn! =p both of them v funny=D but nice pict ehx?!=)
jessamin, hongling n yanan!!! haha, i also think this photo v pretty=D( partly muz be due to having a gd photographer:))hong ling holding e guides' bear!
YIPEE! i only get to take xuerong jumping! e others i guess redo many times bahz!=D
food w hippo!
FOOD! looks yummy...heh=D
Calvin! errr...i think he was serving...but he normally not that nice so muz haf some ulterior motive which i forgot wat...hmmmm
KIAN KEONG'S FOOD! WOAH...now i know not to underestimate what a vegetarian can eat=D amazing=)yum yum:)
heh, junior class guys eat quite funnily...
haha! they also look v funny in e pyjamas holding the food:D
Ling Huan!!!! HAHAHA...she supposedly insist she get best dressed that night...but ummm no one pins her hair n wear a bag to slp ah...haha but q cute in that la!:)
Marilyn totally diao-ing her...hahaha
Yay! eat eat=)
ehx...treat this as part 1...i want slp le...continue nxt time:D
posted by eileen:D at 2:08 AM